articles: eye, august 1992

---
From Eye Magazine, August 1992: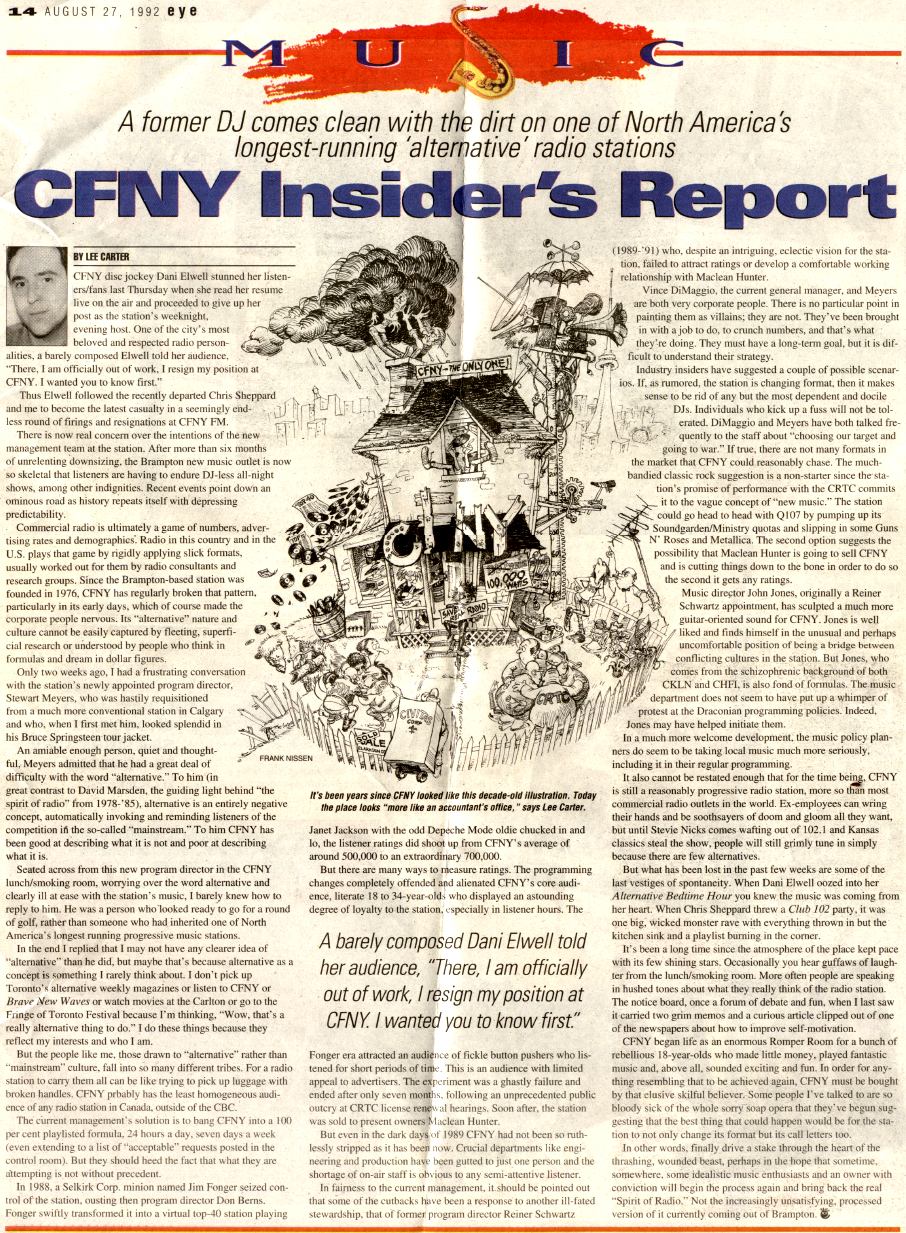 CFNY Insider's Report
By Lee Carter
CFNY disc jockey Dani Elwell stunned her listeners/fans last Thursday when she read her resume live on the air and proceeded to give up her post as the station's weeknight, evening host. One of the city's most beloved and respected radio personalities, a barely composed Elwell told her audience, "There, I am officially out of work, I resign my position at CFNY. I wanted you to know first."
Thus Elwell followed the recently departed Chris Sheppard and me to become the latest casualty in a seemingly endless round of firings and resignations at CFNY FM.
There is now real concern over the intentions of the new management team at the station. After more than six months of unrelenting downsizing, the Brampton new music outlet is now so skeletal that listeners are having to endure DJ-less all-night shows, among other indignities. Recent events point down an ominous road as history repeats itself with depressing predictability.
Commercial radio is ultimately a game of numbers, advertising rates and demographics. Radio in this country and in the U.S. plays that game by rigidly applying slick formats, usually worked out for them by radio consultants and research groups. Since the Brampton-based station was founded in 1976, CFNY has regularly broken that pattern, particularly in its early days, which of course made the corporate people nervous. Its "alternative" nature and culture cannot be easily captured by fleeting, superficial research or understood by people who think in formulas and dream in dollar figures.
Only two weeks ago, I had a frustrating conversation with the station's newly appointed program director, Stewart Myers, who was hastily requisitioned from a much more conventional station in Calgary and who, when I first met him, looked splendid in his Bruce Springsteen tour jacket.
An amiable enough person, quiet and thoughtful, Meyers admitted that he had a great deal of difficulty with the word "alternative." To him (in great contrast to David Marsden, the guiding light behind "the spirit of radio" from 1978-'85), alternative is an entirely negative concept, automatically invoking and reminding listeners of the competition in the so-called "mainstream." To him CFNY has been good at describing what it is not and poor at describing what it is.
Seated across from this new program director in the CFNY lunch/smoking room, worrying over the word alternative and clearly ill at ease with the station's music, I barely knew how to reply to him. He was a person who looked ready to go for a round of golf, rather than someone who had inherited one of North America's longest running progressive music stations.
In the end I replied that I may not have any clearer idea of "alternative" than he did, but maybe that's because alternative as a concept is something I rarely think about. I don't pick up Toronto's alternative weekly magazines or listen to CFNY or Brave New Waves or watch movies at the Carlton or go to the Fringe of Toronto Festival because I'm thinking, "Wow, that's a really alternative thing to do." I do these things because they reflect my interests and who I am.
But the people like me, those drawn to "alternative" rather than "mainstream" culture, fall into so many different tribes. For a radio station to carry them all can be like trying to pick up luggage with broken handles. CFNY probably has the least homogeneous audience of any radio station in Canada, outside of the CBC.
The current management's solution is to bang CFNY into a 100 per cent playlisted formula, 24 hours a day, seven days a week (even extending to a list of "acceptable" requests posted in the control room). But they should heed the fact that what they are attempting is not without precedent.
In 1988, a Selkirk Corp. minion named Jim Fonger seized control of the station, ousting then program director Don Berns. Fonger swiftly transformed it into a virtual top-40 station playing Janet Jackson with the odd Depeche Mode oldie chucked in and lo, the listener ratings did shoot up from CFNY's average of around 500,000 to an extraordinary 700,000.
But there are many ways to measure ratings. The programming changes completely offended and alienated CFNY's core audience, literate 18 to 34-year-olds who displayed an astounding degree of loyalty to the station, especially in listener hours. The Fonger era attracted an audience of fickle button pushers who listened for short periods of time. This is an audience with limited appeal to advertisers. The experiment was a ghastly failure and ended after only seven months, following an unprecedented outcry at CRTC licence renewal hearings. Soon after, the station was sold to present owners MacLean Hunter.
But even in the dark days of 1989 CFNY had not been so ruthlessly stripped as it has been now. Crucial departments like engineering and production have been gutted to just one person and the shortage of on-air staff is obvious to any semi-attentive listener.
In fairness to the current management, it should be pointed out that some of the cutbacks have been a response to another ill-fated stewardship, that of former program director Reiner Schwartz (1989-'91) who, despite an intriguing, eclectic vision for the station, failed to attract ratings or develop a comfortable working relationship with MacLean Hunter.
Vince DiMaggio, the current general manager, and Meyers are both very corporate people. There is no particular point in painting them as villains; they are not. They've been brought in with a job to do, to crunch numbers, and that's what they're doing. They must have a long-term goal, but it is difficult to understand their strategy.
Industry insiders have suggested a couple of possible scenarios. If, as rumored, the station is changing format, then it makes sense to be rid of any but the most dependent and docile DJs. Individuals who kick up a fuss will not be tolerated. DiMaggio and Meyers have both talked frequently to the staff about "choosing our target and going to war." If true, there are not many formats in the market that CFNY could reasonably chase. The much-bandied classic rock suggestion is a non-starter since the station's promise of performance with the CRTC commits it to the vague concept of "new music." The station could go head to head with Q107 by pumping up its Soundgarden/Ministry quotas and slipping in some Guns N' Roses and Metallica. The second option suggests the possibility that MacLean Hunter is going to sell CFNY and is cutting things down to the bone in order to do so the second it gets any ratings.
Music director John Jones, originally a Reiner Schwartz appointment, has sculpted a much more guitar-oriented sound for CFNY. Jones is well liked and finds himself in the unusual and perhaps uncomfortable position of being a bridge between conflicting cultures in the station. But Jones, who comes from the schizophrenic background of both CKLN and CHFI, is also fond of formulas. The music department does not seem to have put up a whimper of protest at the Draconian programming policies. Indeed, Jones may have helped initiate them.
In a much more welcome development, the music policy planners do seem to be taking local music much more seriously, including it in their regular programming.
It also cannot be restated enough that for the time being, CFNY is still a reasonably progressive radio station, more so than most commercial radio outlets in the world. Ex-employees can wring their hands and be soothsayers of doom and gloom all they want, but until Stevie Nicks comes wafting out of 102.1 and Kansas classics steal the show, people will still grimly tune in simply because there are few alternatives.
But what was been lost in the past few weeks are some of the last vestiges of spontaneity. When Dani Elwell oozed into her Alternative Bedtime Hour you knew the music was coming from her heart. When Chris Sheppard threw a Club 102 party, it was one big, wicked monster rave with everything thrown in but the kitchen sink and a playlist burning in the corner.
It's been a long time since the atmosphere of the place kept pace with its few shining stars. Occasionally you hear guffaws of laughter from the lunch/smoking room. More often people are speaking in hushed tones about what they really think of the radio station. The notice board, once a forum of debate and fun, when I last saw it carried two grim memos and a curious article clipped out of one of the newspapers about how to improve self-motivation.
CFNY began life as an enormous Romper Room for a bunch of rebellious 18-year-olds who made little money, played fantastic music, and above all, sounded exciting and fun. In order for anything resembling that to be achieved again, CFNY must be bought by that elusive skilful believer. Some people I've talked to are so bloody sick of the whole sorry soap opera that they've begun suggesting that the best thing that could happen would be for the station to not only change its format but its call letters too.
In other words, finally drive a stake through the heart of the thrashing, wounded beast, perhaps in hope that sometime, somewhere, some idealistic music enthusiasts and an owner with conviction will begin the process again and bring back the real "Spirit of Radio." Not the increasingly unsatisfying, processed version of it currently coming out of Brampton.