articles: now, march 1989

---
From NOW Magazine, March 1989: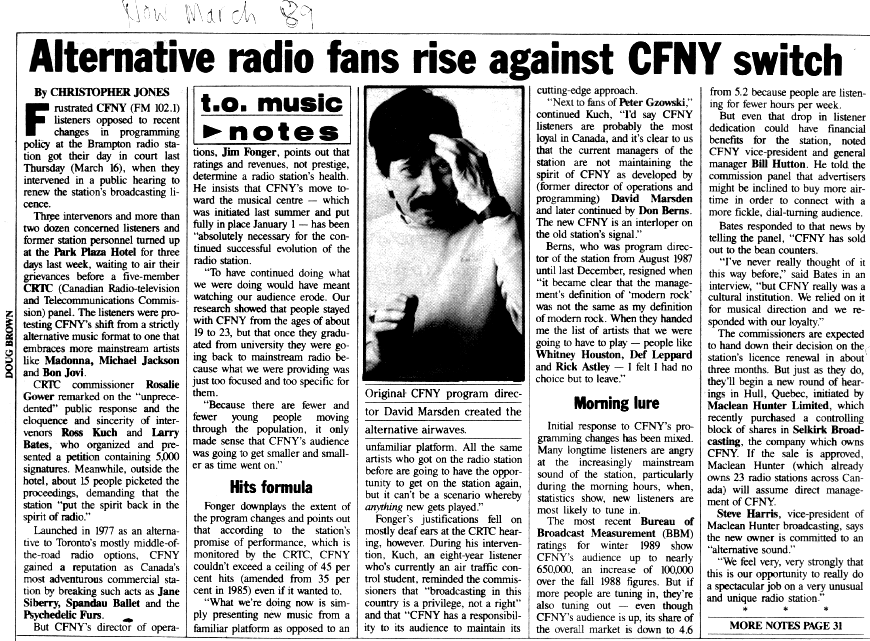 Alternative radio fans rise against CFNY switch
By Christopher Jones
Frustrated CFNY (FM 102.1) listeners opposed to recent changes in programming policy at the Brampton radio station got their day in court last Thursday (March 16), when they intervened in a public hearing to renew the station's broadcasting license.
Three intervenors and more than two dozen concerned listeners and former station personnel turned up at the Park Plaza Hotel for three days last week, waiting to air their grievances before a five-member CRTC (Canadian Radio-television and Telecommunications Commission) panel. The listeners were protesting CFNY's shift from a strictly alternative music format to one that embraces more mainstream artists like Madonna, Michael Jackson and Bon Jovi.
CRTC commissioner Rosalie Gower remarked on the "unprecedented" public response and the eloquence and sincerity of intervenors Ross Kuch and Larry Bates, who organized and presented a petition containing 5,000 signatures. Meanwhile, outside the hotel, about 15 people picketed the proceedings, demanding that the station "put the spirit back in the spirit of radio."
Launched in 1977 as an alternative to Toronto's mostly middle-of-the-road radio options, CFNY gained a reputation as Canada's most adventurous commercial station by breaking such acts as Jane Sibbery, Spandau Ballet and the Psychedelic Furs.
But CFNY's director of operations, Jim Fonger, points out that ratings and revenues, not prestige, determine a radio station's health. He insists that CFNY's move toward the musical centre - which was initiated last summer and put fully in place January 1 - has been "absolutely necessary for the continued successful evolution of the radio station."
"To have continued doing what we were doing would have meant watching our audience erode. Our research showed that people stayed with CFNY from the ages of about 19 to 23, but that once they graduated from university they were going back to mainstream radio because what we were providing was just too focussed and too specific for them."
"Because there are fewer and fewer young people moving through the population, it only made sense that CFNY's audience was going to get smaller and smaller as time went on."
Fonger downplays the extent of the program changes and points out that according to the station's promise of performance, which is monitored by the CRTC, CFNY couldn't exceed a ceiling of 45 per cent hits (amended from 35 per cent in 1985) even if it wanted to.
"What we're doing now is simply presenting new music from a familiar platform as opposed to an unfamiliar platform. All the same artists who got on the radio station before are going to have the opportunity to get on the station again, but it can't be a scenario whereby anything new gets played."
Fonger's justifications fell on mostly deaf ears at the CRTC hearing, however. During his intervention, Kuch, an eight-year listener who's currently an air traffic control student, reminded the commissioners that "broadcasting in this country is a privilege, not a right" and that "CFNY has a responsibility to its audience to maintain its cutting-edge approach.
"Next to fans of Peter Gzowski," continued Kuch, "I'd say CFNY listeners are probably the most loyal in Canada, and it's clear to us that the current managers of the station are not maintaining the spirit of CFNY as developed by (former director of operations and programming) David Marsden and later continued by Don Berns. The new CFNY is an interloper on the old station's signal."
Berns, who was program director of the station from August 1987 until last December, resigned when "it became clear that the management's definition of 'modern rock' was not the same as my definition of modern rock. When they handed me the list of artists that we were going to have to play - people like Whitney Houston, Def Leppard and Rick Astley - I felt I had no choice but to leave."
Initial response to CFNY's programming changes has been mixed. Many longtime listeners are angry at the increasingly mainstream sound of the station, particularly during the morning hours, when, statistics show, new listeners are most likely to tune in.
The most recent Bureau of Broadcast Measurement (BBM) ratings for winter 1989 show CFNY's audience up to nearly 650,000, an increase of 100,000 over the fall 1988 figures. But if more people are tuning in, they're also tuning out - even though CFNY's audience is up, its share of the overall market is down to 4.6 from 5.2 because people are listening for fewer hours per week.
But even that drop in listener dedication could have financial benefits for the station, noted CFNY vice-president and general manager Bill Hutton. He told the commission panel that advertisers might be inclined to buy more airtime in order to connect with a more fickle, dial-turning audience.
Bates responded to that news by telling the panel, "CFNY has sold out to the bean counters."
"I've never really thought of it this way before," said Bates in an interview, "but CFNY really was a cultural institution. We relied on it for musical direction and we responded with our loyalty."
The commissioners are expected to hand down their decision on the station's license renewal in about three months. But just as they do, they'll begin a new round of hearings in Hull, Quebec, initiated by MacLean Hunter Limited, which recently purchased a controlling block of shares in Selkirk Broadcasting, the company which owns CFNY. If the sale is approved, MacLean Hunter (which already owns 23 radio stations across Canada) will assume direct management of CFNY.
Steve Harris, vice-president of MacLean Hunter broadcasting, says the new owner is committed to an "alternative sound."
"We feel very, very strongly that this is our opportunity to really do a spectacular job on a very unusual and unique radio station."