articles: network, october 1991

---
From Network Magazine, October 1991: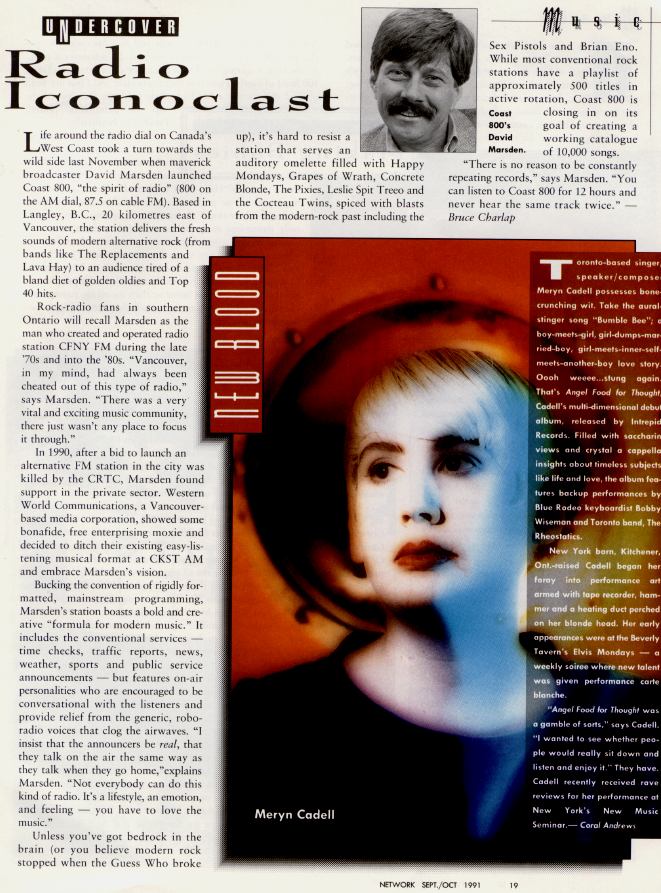 Radio Iconoclast
by Bruce Charlap
Life around the radio dial on Canada's West Coast took a turn towards the wild side last November when maverick broadcaster David Marsden launched Coast 800, "the spirit of radio" (800 on the AM dial, 87.5 on cable FM). Based in Langley, B.C., 20 kilometres east of Vancouver, the station delivers the fresh sounds of modern alternative rock (from bands like The Replacements and Lava Hay) to an audience tired of a bland diet of golden oldies and Top 40 hits.
Rock-radio fans in southern Ontario will recall Marsden as the man who created and operated radio station CFNY FM during the late '70s and into the '80s. "Vancouver, in my mind, had always been cheated out of this type of radio," says Marsden. "There was a very vital and exciting music community, there just wasn't any place to focus it through."
In 1990, after a bid to launch an alternative FM station in the city was killed by the CRTC, Marsden found support in the private sector. Western World Communications, a Vancouver-based media corporation, showed some bonafide, free enterprising moxie and decided to ditch their existing easy-listening musical format at CKST AM and embrace Marsden's vision.
Bucking the convention of rigidly formatted, mainstream programming, Marsden's station boasts a bold and creative "formula for modern music." It includes the conventional services - time checks, traffic reports, news, weather, sports and public service announcements - but features on-air personalities who are encouraged to be conversational with the listeners and provide relief from the generic, robo-radio voices that clog the airwaves. "I insist that announcers be real, that they talk on the air the same way as they talk when they go home," explains Marsden. "Not everybody can do this kind of radio. It's a lifestyle, an emotion, and feeling - you have to love the music."
Unless you've got bedrock in the brain (or you believe modern rock stopped with the Guess Who broke up), it's hard to resist a station that serves an auditory omelette filled with Happy Mondays, Grapes of Wrath, Concrete Blonde, The Pixies, Leslie Spit Treeo and the Cocteau Twins, spiced with blasts from the modern-rock past including the Sex Pistols and Brian Eno. While most conventional rock stations have a playlist of approximately 500 titles in active rotation, Coast 800 is closing in on its goal of creating a working catalogue of 10,000 songs.
"There is no reason to be constantly repeating records," says Marsden. "You can listen to Coast 800 for 12 hours and never hear the same track twice."