articles: marketing, 1981

---
From Marketing Magazine, 1981: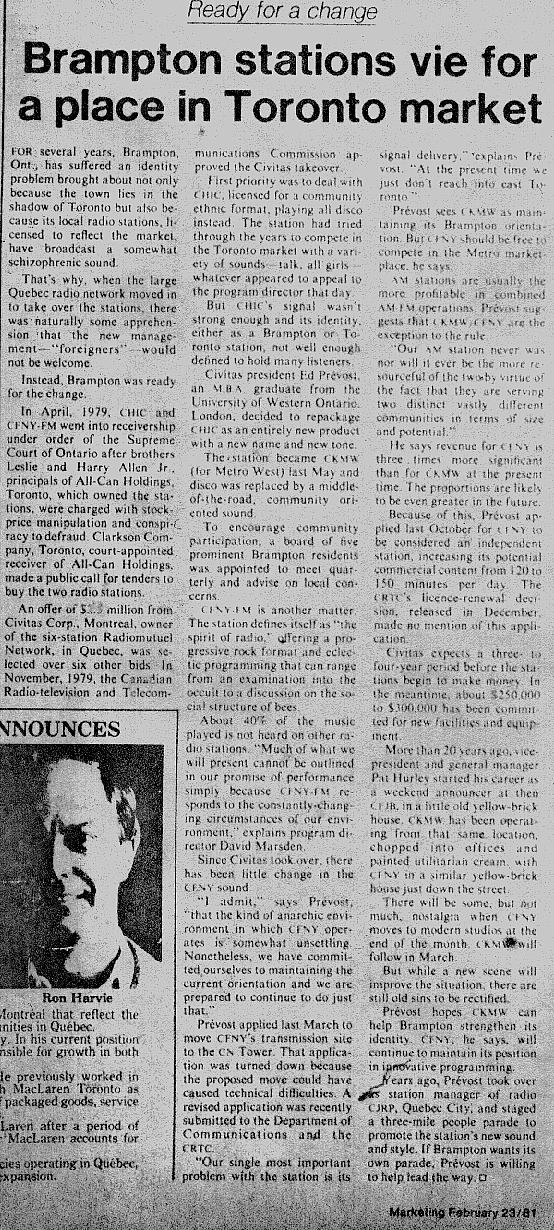 Brampton stations vie for a place in Toronto market
Marketing Magazine
February 23, 1981
For several years, Brampton, Ont. has suffered an identity problem brought about not only because the town lies in the shadow of Toronto but also because its local radio stations, licensed to reflect the market, have broadcast a somewhat schizophrenic sound.
That's why, when the large Quebec radio network moved in to take over the stations, there was naturally some apprehension that the new management - "foreigners" - would not be welcome.
Instead, Brampton was ready for the change.
In April, 1979, CHIC and CFNY-FM went into receivership under order of the Supreme Court of Ontario after brothers Leslie and Harry Allen Jr., principals of All-Can Holdings, Toronto, which owned the stations, were charged with stock price manipulation and conspiracy to defraud. Clarkson Company, Toronto, court-appointed receiver of All-Can Holdings, made a public call for tenders to buy the two radio stations.
An offer of $2.3 million from Civitas Corp., Montreal, owner of the six-station Radiomutuel Network, in Quebec, was selected over six other bids. In November, 1979, the Canadian Radio-television and Telecommunications Commission approved the Civitas takeover.
First priority was to deal with CHIC, licensed for a community ethnic format, playing all disco instead. The station had tried through the years to compete in the Toronto market with a variety of sounds - talk, all girls - whatever appeared to appeal to the program director that day.
But CHIC's signal wasn't strong enough and its identity, either as a Brampton or Toronto station, not well enough defined to hold many listeners.
Civitas president Ed Prevost, an MBA graduate from the University of Western Ontario, London, decided to repackage CHIC as an entirely new product with a new name and new tone.
The station became CKMW (for Metro West) last May and disco was replaced by a middle-of-the-road, community oriented sound.
The encourage community participation, a board of five prominent Brampton residents was appointed to meet quarterly and advice on local concerns.
CFNY-FM is another matter. The station defines itself as "the spirit of radio," offering a progressive rock format and eclectic programming that can range from an examination into the occult to a discussion on the social structure of bees.
About 40% of the music played is not heard on other radio stations. "Much of what we will present cannot be outlined in our promise of performance simply because CFNY-FM responds to the constantly changing circumstances of our environment," explains program director David Marsden.
Since Civitas took over, there has been little change in the CFNY sound.
"I admit," says Prevost, "that the kind of anarchic environment in which CFNY operates is somewhat unsettling. Nonetheless, we have committed ourselves to maintaining the current orientation and we are prepared to continue to do just that."
Prevost applied last March to move CFNY's transmission site to the CN Tower. That application was turned down because the proposed move could have caused technical difficulties. A revised application was recent submitted to the Department of Communications and the CRTC.
"Our single most important problem with this station is its signal delivery," explains Prevost. "At the present time we just don't reach into east Toronto."
Prevost sees CKMW as maintaining its Brampton orientation. But CFNY should be free to compete in the Metro marketplace, he says.
AM stations are usually the more profitable in combined AM-FM operations. Prevost suggests that CKMW/CFNY are the exception to the rule.
"Our AM station never was nor will it ever be the more resourceful of the two by virtue of the fact that they are serving two distinct vastly different communities in terms of size and potential."
He says revenue for CFNY is three times more significant than for CKMW at the present time. The proportions are likely to be even greater in the future.
Because of this, Prevost applied last October for CFNY to be considered an independent station, increasing its potential commercial content from 120 to 150 minutes per day. The CRTC's license-renewal decision, released in December, made no mention of this application.
Civitas expects a three- to four-year period before the stations begin to make money. In the meantime, about $250,000 to $300,000 has been committed for new facilities and equipment.
More than 20 years ago, vice-president and general manager Pat Hurley started his career as a weekend announcer at then CFJB, in a little old yellow-brick house. CKMW has been operating from that same location, chopped into offices and painted utilitarian cream, with CFNY in a similar yellow-brick house just down the street.
There will be some, but not much, nostalgia when CFNY moves to modern studios at the end of the month. CKMW will follow in March.
But while a new scene will improve the situation, there are still old sins to be rectified.
Prevost hopes CKMW can help Brampton strengthen its identity. CFNY, he says, will continue to maintain its position in innovative programming.
Years ago, Prevost took over as station manager of radio CJRP, Quebec City, and staged a three-mile people parade to promote the station's new sound and style. If Brampton wants its own parade, Prevost is willing to help lead the way.