personalities: alan cross

---
Please email corrections and additional information to us . Thanks to all who have contributed to this page, including Bill Dulmage, Wilma Blokhuis, Alan Cross, David Marsden and Don Berns.
---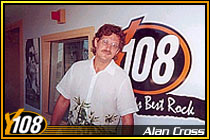 Alan Cross

Overnights (1986 - 1988)
Afternoon Announcer (1989 - March 2001)
Program Director (Feb 2004 - )
Ongoing History of New Music (Sundays at 7pm)

Has written four books:


Alan also hosts a monthly in-flight entertainment show for Air Canada, played on all of their airplanes that offer in-flight entertainment. Married Mary Ellen Beninger in 1990 and lives in Waterdown.

Alan left CFNY in March of 2001 to become the Program Director of Y95 in Hamilton.

From Alan, May 2002:
"I was moved into management in January 2001 when I was given the reigns of Y95 (now Y108), a former WIC radio station that was purchased by Corus, the parent company of CFNY. I still do "The Ongoing History of New Music" and the occasional "World Album Premiere" special for the station. The OH is heard on a whack of stations (Corus and non-Corus) from Ottawa to Victoria."
As of February 2004, Alan Cross will be replacing Dave Farrough as Program Director at Edge 102. Dave will be moving to be PD at Q107.
Now also hosts " ExploreMusic with Alan Cross " on AUX TV.
Last updated: Wednesday, November 04, 2009
---
Log In Now to leave a comment about this personality!
---
Sort by Name or by Date of update
Click the personality you want to view: