personalities: pamela blair

---
Please email corrections and additional information to us . Thanks to all who have contributed to this page, including Bill Dulmage, Wilma Blokhuis, Alan Cross, David Marsden and Don Berns.
---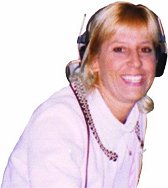 Pamela Blair
Went to Energy 108 after CFNY, then moved to 680 News / CHFI , where she she showed up mostly on weekends. Now at AM740 working as a full-time swing announcer.
From Pamela, June 2002:
Hey Gang!
It's Pamela Blair checking in.

I have yet to file a recent photo and AM 740 has yet to get a website (these oldtimers are sooooooo slow at these things, but gotta love them nonetheless!)

I just read my profile and I wanted to add a few things and make a few adjustments as to what is posted.

Yes, I went to Energy 108 following the death of what I'd call great alternative music at cfny in 1992! Got fed up with the shit from the management saying that despite the fact they fired the top alternative jocks at the only alternative station in the city, they were going to keep the format. Yikes!

Spent 6 years as the "Diva of the Dark" at the country's only dance music station...progressive club music....real innovators! but we know all about this being cfny'ers and living "on the edge" of great sounds! Adored my years at Energy but in 1998 got canned by the new management and the next bunch of geeks to take over.

Spent 3 years back in the news grind for both 680/CHFI...again Yikes! And in May of 2001 when I was ready to pack it all in, got hired by another independent radio station...AM 740.....we don't ROCK...we SWING! And I love it!

It's refreshing to actually play music that isn't heard on EVERY OTHER RADIO STATION. So what that it's Frank Sinatra or Tony Bennett, these guys are SWEET! and they know how to treat a lady! 

I am no longer a newscaster. Don't want anything to do with those snarky, pessimistic bitches. I'm full-time SWING ANNOUNCER at AM 740.....and they tell me that I'm the next best thing to VIAGRA....so there!

On a personal note....I went back to school this past year to get certified to teach Secondary School Music and Drama and I will be a full-time Music Teacher in the fall in the Burlington area where I am currently living and yes, I will continue to try to balance both careers while I can.

I am a single Mom of an amazing 7 year old boy who is the light and SPIRIT of my life!!

Peace
April 2004: Pamela ran the Boston Marathon this April! An article on Pam training is here .
From Pamela, March 2007:

Hey cats!

I'm still swinging at AM 740 and have 2 regular time slots...Saturdays 10am-3pm and Sundays I'm the host of "Ask the Professionals", a talk-infomercial style program.

I'm now into my 5th year of teaching Drama at White Oaks Secondary School in Oakville.

I live in Dundas with my husband-to-be (wedding this summer) Jeff Turner and his 2 children, Conor 12, Lia 11 and my own love-of-my-life son Eli, also now 12.

I've gotta add that my son is quite the star.....QB for the Burlington football team....Rep Basketball player for Burlington and recipient of this year's "Student of Excellence" at his school....honoured for his excellence in academics, athletics, citizenship and leadership. Can you tell I'm a proud mom?

I still run tons and teach aerobics and cycling fitness classes.

Pam

Last updated: Monday, March 5, 2007
---
Log In Now to leave a comment about this personality!
---
Sort by Name or by Date of update
Click the personality you want to view: