personalities: maureen bulley

---
Please email corrections and additional information to us . Thanks to all who have contributed to this page, including Bill Dulmage, Wilma Blokhuis, Alan Cross, David Marsden and Don Berns.
---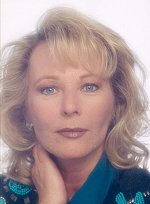 Maureen Bulley
Creative Director (1982-1992)
Don Berns says:
"[Maureen] now owns her own creative services business called The Radio Store. Maureen created the award-winning 'CFNY's signal kills pesky mosquitos dead' promo."
Maureen Bulley was Creative Director at CFNY from 1982 to 1992. Under her guidance, the Creative/Production Department won dozens of National and International awards for entertaining commercials and station promos produced to compliment the unique programming of The Spirit of Radio. Bulley left CFNY to become Director, Creative Services at Classic Rock Y95 and AM900 CHML in Hamilton. She was promoted to Director of Marketing and Creative Services and spent a total of 2 years at the Hamilton combo. In 1994 Maureen founded THE RADIO STORE: a consulting firm that helps Media companies create more effective advertising and promotional copy. In the last 10 years, Maureen has trained hundreds of writers and producers to write more effective commercials, and helped a variety of broadcasters develop "in-house agencies" to better serve their Direct clients. She has authored 3 major training initiatives including the RADIO POWER TOOLS Program and the CERTIFIED RADIO COPYWRITER program: the official industry certification course. Her latest book is entitled "Write Good Copy, Fast!". These programs are designed to increase the effectiveness of advertising and station self-promotion. Maureen is a frequent presenter at State Association, RAB and NAB Conventions worldwide, and is a regular contributor to a variety of industry publications including Radio & Records, Marketing Magazine and Broadcast Dialogue. Maureen is a Certified Print Production Practitioner and Certified Advertising Agency Practitioner, industry designations awarded by the Institute of Canadian Advertising. She spends her "spare time" teaching as a Professor of Media Studies at Humber College in Toronto, and is currently studying for her Masters in Adult Education from Brock University. Bulley lives in Toronto with her husband and 5-year old daughter.
Last updated: Monday, November 10, 2003
---
Log In Now to leave a comment about this personality!
---
Sort by Name or by Date of update
Click the personality you want to view: