personalities: skot turner

---
Please email corrections and additional information to us . Thanks to all who have contributed to this page, including Bill Dulmage, Wilma Blokhuis, Alan Cross, David Marsden and Don Berns.
---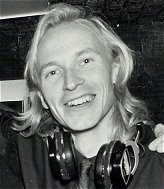 Skot Turner
Evening Announcer

Changed his name from Skot to Scot in the 1990's. Left the evening shift in 1989 (replaced by Dani Elwell), and returned a few months later to do weekend afternoons. He took over the morning show from Humble Howard in 1991, co-hosting with Fred Patterson. in 1991-92, the morning crew was Scot, Maie Pauts and Fred. Then Scot was fired (went to Energy 108 the SAME DAY) and it became just Maie and Fred. Then Howard came back. Now that Pat Cardinal has been installed as the PD at Energy 108, Scot is the Music Director there.

Consultant for launch of '88.5 The X' in Newmarket which has since become 'Power 88.5', then 'Country 88.5', and is now 'Dancin' Oldies 88.5."

From Alan Cross (Oct 2002):
(Now back to "Scot Turner") He was at EnergyFM until the station flipped to country in August 2002.


From Scot (Oct 2003):
Hi!

For the love of God would you mind replacing that photo of me from the Casby program with this photo. I've suffered long enough. I think I got that haircut the day after I saw Duran Duran at their first show at the El McCombo – funny, that was the only time in my 8 years at the station it was short. It's been good fun....but it's time for a change don't you think. This shot, of Ivar and I is classic CFNY – taken inside our "Boom Box" remote radio during a moment of Live In Toronto which Ivar and I created way back when. Can't recall the exact year of this was taken....but I think it captures the "spirit" don't you think!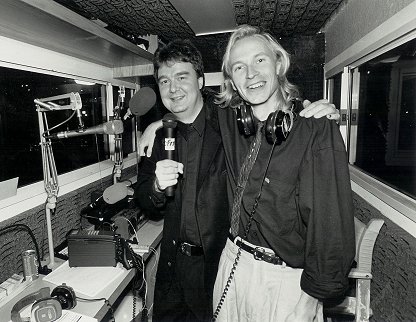 From Captain Phil Evans (Nov 2003):
Scot Turner is now Program Director at Urban station The Beat 94.5 in Vancouver.

Still has one of the best voices in radio.



From Scot (Nov 2003):
The "Skot" was recommended by David Marsden – which, I thought at the time, looked cool – why not? Later changed it to "Scot" (with a "c" – one "t") after the CFNY era, as recommended by a numerologist…and being into that kind of stuff – I bought it. Lord, let's move on please.

Clocked 8 years at CFNY on-air doing overnights, evenings (for the longest run), weekends and mornings (probably the worst morning host the station ever had) over the years. As Director Of Foreground Programming I created (with Ivar Hamilton) "Live In Toronto" which later became one of CFNY's longest running feature programs. I co-hosted with Ivar Hamilton then later – for many years Maie Pauts. I also created "The Thursday Thirty", "Friday Night High", "Beats Per Minute" (Dance Music Program) and "Sunday Music Magazine". It was during research for Sunday Music Magazine I came across information about the beginnings of CFNY and suggested an anniversary type party for the station. This led to The Canada Day Anniversary Party – later to become EdgeFest.

Fired from CFNY during the major upheaval in the summer of 92' and launched Energy 108 as Program Director in September of 92'. Hired on Pamela Blair, Chris Sheppard, Don Berns (where "Dr Trance" was born) and later Hedley Jones over to Energy where we championed Dance, Urban and Electronic music fueling a renaissance in Toronto clubbing and a legendary Rave scene that people still talk about today. Corus purchased the station in the late 90's and that was that. Corus changed the format to Top 40 and then switched to Country in the summer of 2002 after swapping frequencies with Y95 in Hamilton. I was at Energy for 10 years. Moved to Vancouver in Spring of 2003 where I am currently the Program Director of Urban stationThe Beat 94.5.

In my teens I became obsessed with the, then progressive, CHUM-FM where I used to listen to David Marsden, Pete and Geets, David Pritchard and John Donabie. It was then I decided I wanted to work in radio. When CHUM-FM changed, I soon discovered a hard-to-get signal at 102.1 and became completely, immediately, absolutely - addicted.


Feb 2014: About to start hosting the Spirit of Radio Sunday, on CFNY, 102.1 the Edge. Scot will host a weekly feature airing every Sunday from 11 am to 5 pm, beginning March 9, 2014. Spirit of Radio Sunday will feature the artists that defined the alternative rock format including U2, Police, Depeche Mode, New Order, Talking Heads, The Clash, The Sex Pistols, OMD, The Smiths, The Cure and Tears for Fears.
Last updated: Wednesday, February 26, 2014
---
Log In Now to leave a comment about this personality!
---
Sort by Name or by Date of update
Click the personality you want to view: