personalities: erella ganon

---
Please email corrections and additional information to us . Thanks to all who have contributed to this page, including Bill Dulmage, Wilma Blokhuis, Alan Cross, David Marsden and Don Berns.
---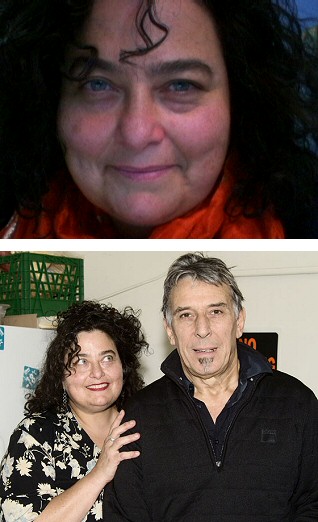 Erella Ganon
Overnight Announcer (1987)
Streets of Ontario and Live in Toronto (1987 - 1991)
Now working as a bookwriter, publisher and music promoter in Toronto.
Her personal web site can be seen here .
From Erella (May, 2006):
I was the overnight announcer in 1987 and contributed to Streets of Ontario and Live in Toronto until about 1991.

Unfortunately, I donít have the exact dates. I contributed much less regularly after that.

It was a busy time for me, I was a music writer at NOW magazine and the Toronto Star during the same period. When I left CFNY I went to work at CTV full time and did the weekend and swing shifts when I could.

Since then, I have been working as a writer/broadcaster mainly for CBC and WTN in the last few years. Being a freelancer requires many levels of creativity.

There is a bio of sorts at http://en.wikipedia.org/wiki/Erella
I have always had many things cooking at the same time.

The picture with John Cale was taken at the Lula Lounge in November 2005.

Last updated: Friday, June 9, 2006
---
Log In Now to leave a comment about this personality!
---
Sort by Name or by Date of update
Click the personality you want to view: