personalities: david marsden

---
Please email corrections and additional information to us . Thanks to all who have contributed to this page, including Bill Dulmage, Wilma Blokhuis, Alan Cross, David Marsden and Don Berns.
---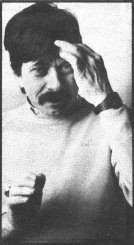 David Marsden
aka: Dave Mickey, The Mars Bar

Founder, Program Director (1977 - 1987)
Weekends (1986 - 1988)
Christmas Eve

In November 1990, Marsden took over AM station CKST in Vancouver and renamed it Coast 800 - The Spirit of Radio. Coast 800 no longer exists.

As of early 1999, Don Berns says:


"[David is] currently managing two recording artists in Vancouver, where he went in 1987 to produce a years-ahead-of-its-time TV show for CBC called "Pilot One." Last year David was "inducted" into the radio wing of The Rock & Roll Hall of Fame twice--once as David Marsden and once as Dave Mickey. This is a true radio visionary whose talents are being wasted by an industry that could care less about creativity and any vision other than how to make pots o' cash."


David emailed me recently and said:
I am deeply touched by your site. It is quite obvious you have put a lot of effort and love into your work.

You have more paraphernalia than I do. The only difference is that I do have a lot of the originals. Such as the picture of the old yellow house as it appeared in the newspaper. A couple of months ago I did discover an old CFNY lighter in a box of stuff. Surprise -- it stilled worked! Not being a smoker any longer I had little use for it other than as a souvenir.

Anyway, thanks again for the memories and the love you have shown. Happy New Year. Perhaps I should return to Toronto and put a new station on the air. Do you think anyone would listen? Just wondering.
November 2000: David is currently working with Don Berns on 1groove.com.

December 2002: Marsden writes:


CHIC was the AM side. When they got the FM license the Allen boys called it CFNY due to its frequency at 102.1. The license was originally granted to try and let Toronto have an FM frequency to hurt the Buffalo station at 102.5. They called themselves Rock 102.

In its most early days the CHIC sister station was operated on a turntable in the back corner of the AM station. Then it was moved a block up the street to a second little old house while the AM stayed in the first old house. Both places were painted an ugly baby shit yellow.

One final little known part of the early days of CFNY – originally both Don Shafer and I were hired to program the very early CFNY. In those days Don was in Vancouver. Then I received a call at my home telling me that the Allen brothers had changed their minds and I wasn't wanted. I think Shafe decided to stay in Vancouver and I decided to challenge the Allen's on their withdrawal. Soon there after they phoned me and said they had changed their minds yet again and would I please report to the station that day at 4 PM

The first day I arrived – John Morris was in the building along with Bruce Heyding. Also there was someone sitting at the reception desk. None of them had been advised that I was coming into the station to do a show and work as PD. When I introduced myself they were very surprised and I was scheduled to go on the air that evening – in fact in just a couple of hours. It was at that moment that I just about turned around and returned home. The station I had been at before was CHUM-FM so this was quite a shock.

However – something told me I had a reason to stay.

For those interested in even more detail please read on…

The control room was in a little bedroom of the house. The ceilings were not higher than six feet. The library was in a closet of the bedroom. The production room was in the other bedroom and the news booth was in the previous home bathroom.

In the very early days of the little house (I'll scan a picture from a newspaper to you in the next couple of days) the music we played was stuff that others wouldn't play. This included the very early AC DC, Ozzy and so on. When Slaight took Q-107 into Heavy Metal (at that time it was just called really hard rock and Gary called me to lunch to ask if I wanted to move – obviously we both made the correct decision) I had no choice but to move away from that music and find something else. What we found was the Punk and New Wave music. It's very important that everyone understand that we played this music because we loved it and the license said we couldn't play the stuff other stations played. We never thought of it as the hippest thing in town. We just thought it was about playing the music.

We had some strong players in those early days – Al Spring in the mornings (now deceased), Jim Reid, Brad McNally (now in Australia) and All Night Andre. I was doing the 7 to 11 shift with the talents of Daddy Cool and many others doing foreground at 11 PM. As the PD and with Bruce Heyding as the MD we really left a lot of latitude for what each jock did. It wasn't unusual to hear Japan into very early Genesis mixed into something classical into a Annie Haslam into The Jam.

We did have a formula but we didn't have a format. Today a good radio programmer can draw the program clock of just about any station after listening for only one or two hours. One of the neat tricks about CFNY was that no one could detect our formula. It just seemed like a radio station that was out of control. As I listener that was the sound I was working toward.

I remember one night in the old house control room when I heard a record skip. When I turned to fix it I noticed a mouse running around on the record and continually knocking the tone arm. The article on the board of a couple of days ago made reference to the antiques we called equipment. The article failed to mention the wood desk we filled our logs out on – plain wood with all the slivers you ever wanted. It was were we left notes for each other until the wood had no more space left to write upon.

One final story – Ted Woloshyn and I were doing an afternoon show in the final days of the little house. A TV crew came up from Buffalo to shoot us doing the show. As many of you know Ted is a very tall guy. So tall in fact, that he had to lean down when he was standing in the control room. As the TV camera was taking shots of Ted performing, the camera's sun-gun was within half an inch of the ceiling tiles. The light was extremely bright and very hot. It lit the ceiling on fire and we all had to run. As I remember Bruce Heyding rushed up the stairs with an extinguisher to put the fire out and save the building.

We often wondered if that was the method by which Irv Weinstein always had a fire story in Buffalo as he lead story.

Gee I wish someone wanted me to write a book about all this stuff. As I think of it now there are so many great stories and stuff that we all took for granted at the time.


December 2011 Update:

Steve Macaulay, VP Sales of the Durham Radio Group and one of the architects of the 2003 CFNY reunion, brought Marsden onto his newly-christened 94.9 The Rock (Oshawa, Ontario) station in 2003, to create The David Marsden Radio Program. Marsden's show is currently the only free-form format show in North American radio - unique as he plays what he wants, and interacts with his listeners via his Marsden Global website chat room and Facebook. The show, heard on Saturday and Sunday nights, can also be heard streaming on the Internet, downloaded as podcasts from the station's web site, and on iTunes.

Marsden is also the program director of Western Colorado's The RIDE broadcasting on 104.9 and 92.7 FM, where they boast a library of tends of thousands of songs.

December 2014 Update:

David played his last show at 94.9, and moved on to his newest enterprise: NYTheSpirit.com . Featuring a bedrock of music featured on the old CFNY, it has several CFNY personalities with their own shows: Don Berns, Ivar Hamilton and Rob Stuart of Slave to the Squarewave fame. David himself does a live-to-air show on the site every Saturday and Sunday night.
Last updated: Monday, December 22, 2014
---
Log In Now to leave a comment about this personality!
---
Sort by Name or by Date of update
Click the personality you want to view: