personalities: brother bill

---
Please email corrections and additional information to us . Thanks to all who have contributed to this page, including Bill Dulmage, Wilma Blokhuis, Alan Cross, David Marsden and Don Berns.
---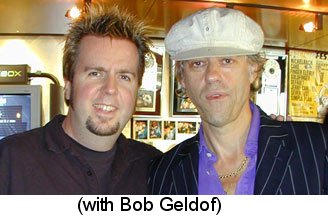 Brother Bill
Real name: Neil Morrison. Worked in the music department with Kneale Mann and Ivar Hamilton 1988-89. Worked the Roadshow with Martin Streek until going on air in 1990. Now does Live In Toronto and weeknight shifts.

From: Brother Bill , May 8, 2001:


The "new and improved" look of this site is nothing short of brilliant! Nice work.. one of the great things about looking/listening/reading back is the memories I've had both behind the scenes and growing up as a listener to 'the spirit'... listening to Shep's airchecks almost brought a tear to my eye! If it weren't for what was, I know I wouldn't be here......... thanks for giving listeners (and old staffers) something to remember!

brother

p.s. I agree with LESLIE KROSS - REUNION!! 


June 2004: Brother Bill has moved to The Fox in Vancouver, and is going by his real name, Neil Morrison.

June 2014: Neil was let go by Corus from the Fox after ten years on the air. Unknown what he's doing now.
Last updated: Tuesday, December 23, 2014
---
Log In Now to leave a comment about this personality!
---
Sort by Name or by Date of update
Click the personality you want to view: