personalities: peter gross

---
Please email corrections and additional information to us . Thanks to all who have contributed to this page, including Bill Dulmage, Wilma Blokhuis, Alan Cross, David Marsden and Don Berns.
---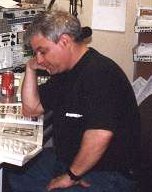 Peter Gross
Weekends (1989)
Went to CFTR, there for almost 10 years (he was one of the 680 News originals), recently returned from whence he came, Citypulse news on CITY-TV (offbeat reporter and weekend weatherman)
Last updated: Tuesday, October 8, 2002
---
VINCENTRIDER at 5:52:26 PM on 11/16/2016 wrote:
PETER IS NOW SPORTS COMMENTATOR FOR AM 680 AND IS DOING A TERRIFFIC JOB !!!!!
---
Log In Now to leave a comment about this personality!
---
Sort by Name or by Date of update
Click the personality you want to view: