personalities: josh holliday

---
Please email corrections and additional information to us . Thanks to all who have contributed to this page, including Bill Dulmage, Wilma Blokhuis, Alan Cross, David Marsden and Don Berns.
---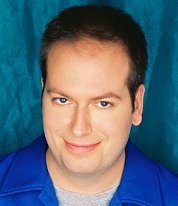 Josh Holliday
Live in Toronto (1992 - 1999)
Started as a creative writer in summer of '92, and did some comedy reporting for the Maie Pauts hosted Live in Toronto. Came back in January of 1993 to join Live in Toronto with Kim Hughes, and continued as the entertainment reporter (television, film, comedy) on that show until 1999. Left and became Creative Director at Q107. Returned to CFNY in 2001 to do a full-time on-air shift until the end of 2002. Does acting and voiceover work.
From Josh, January 2007:
I just started doing afternoon drive at a brand new station in Calgary. Calgary's New Rock Alternative X 92.9
Last updated: Thursday, January 11, 2007
---
Log In Now to leave a comment about this personality!
---
Sort by Name or by Date of update
Click the personality you want to view: