personalities: ivar hamilton

---
Please email corrections and additional information to us . Thanks to all who have contributed to this page, including Bill Dulmage, Wilma Blokhuis, Alan Cross, David Marsden and Don Berns.
---

Ivar Hamilton
Import Music Director
"Original Import Show" Wednesday nights

Went to work for Polygram (now called Universal Music Canada). He worked his way up through the ranks, and is now in a senior marketing role handling primarily R&B and rap groups. He put together a couple "Spirit Of The Edge" compilation CDs: Spirit Of The Edge, in 1992, and Spirit Of The Edge 2, in 1994.

Received from Ivar in April of 2001:
Hi, I just saw this site for the first time.

Well done! I could share hundreds of old NY memories with you but I'm really busy right now so maybe a bit later.

However, I just wanted to give you a bit of an update of what I've been up to recently. In 2001 my role at Universal Music is still the same as senior marketing manager for Universal/Mercury. I'm still fighting the good fight with music and have been responsible recently for the marketing in Canada of Matthew Good, Big Sugar, Sarah Harmer, Rammstein, Powderfinger, Godsmack and many others. Not doing as much Hip Hop and R&B as I was although there is some great music coming out. You folks who listened during the 80's and have much wider tastes than what is on the radio today.....check out India.Arie, Powderfinger (Australia's biggest band but not currently heard anywhere in Toronto), the Sum 41 album is going to be massive and be on the look out for a new Swedish singer by the name of Lisa Miskovsky. She is somewhere between Sarah McLaughlin, Lisa Loeb, Matt Good and Tool light. She is playing a showcase on May 15th at the Horseshoe (on stage at 9:30) Trust me, the fans of the Original Import Show from back in the day, will not be disappointed!

All the best and thanks for keeping the spirit of The Spirit Alive!

Ivar Hamilton
NY Alumni 79 - 88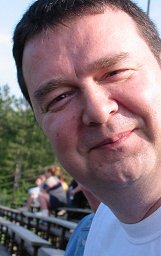 Ivar writes in June, 2001:
Scott, hope all is well.

I wanted to let you know that a few weeks ago I was at a wedding weeks back where Alan Cross and promo director Phil Evans were in attendance. Like many others former staffers on this site, the topic of "re-union" came up. Seeing as July 2002 is the 25th Anniversary of when CFNY went on the air at 100,000 watts, this seemed like the most appropriate time to do one. Phil, myself and Alan are very serious about working on something for next summer. We see not only an event where all the former on air announcers and office staff would get together but also some of the bands that made it happen over the years too. There are lots of other possibilities but we felt that your site would be the best place to start getting the word out. Let me know what you think?

Also, a couple of small things since my last update. They changed our division name at Universal.
I now work for Universal Island Def Jam. (Same job, same people, just a new division name)

The Edge ended up adding Powderfinger finally and when the band came to town last month they had to move the show from Lee's to The Phoenix which they sold out!

Music: Check out the new album by Tricky. Easily his best since the early days. Big Sugar - Brothers & Sisters Are You Ready? Out next week (June 19th). One of the best Canadian Rock records in years. It is the most diverse effort Gordie Johnson has put together ever! Anyone who went to the White Ribbon event last week saw Gordie do some pretty incredible jams with Jeff Martin and The Tea Party including an unforgettable version of Pink Floyd's "Shine On You Crazy Diamond"!

Speak to you soon.

Ivar

P.S. I've attached a recent photo of myself seeing as the only one you have dates back to probably 1984.


From Ivar, September, 2003:
I was on the air recently with Brother Bill at the last Edgefest at Molson Park in Barrie on Sept 6th talking about how it all began and some highlights from past years.

It was a lot of fun and of course I had to get a few plugs in for some of my own acts like Fefe Dobson, The Rapture, Danko.


December 2014: Ivar can now be heard on David Marsden's newest enterprise: NYTheSpirit.com . Featuring a bedrock of music featured on the old CFNY, it has several CFNY personalities with their own shows: Don Berns, Ivar Hamilton and Rob Stuart of Slave to the Squarewave fame. David himself does a live-to-air show on the site every Saturday and Sunday night.
Last updated: Wednesday, March 11, 2015
---
Log In Now to leave a comment about this personality!
---
Sort by Name or by Date of update
Click the personality you want to view: